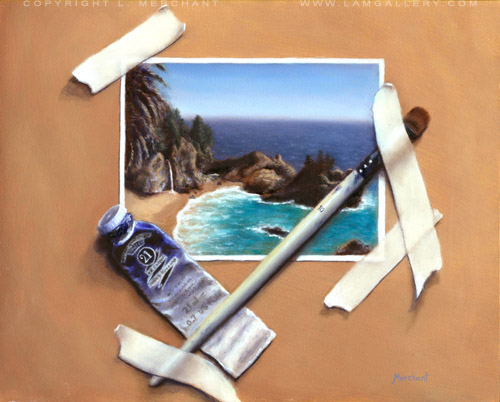 Reflections on Big Sur
Oils on Gessobord, 8x10, 2008








This will be a trompe l'oeil, or "fool the eye" painting. The idea behind this is to present everyday objects in a form that will be difficult to tell the painting from the reality.

Often, the objects are represented on a relatively flat plane, as this creates relatively easy and realistic shadows on underlying objects.

The correspondence between the objects and the painting will be one to one, and I did this simply by laying out the objects onto the hardboard and tracing around them, to get the basic setup for the painting correct.

Here, I've begun to block in the underlying colors. I'm also using gessobord, which provides a smooth surface, which will allow for greater detail even though the final painting will only be 8x10 inches.




Here I've begun to add some shadows to define the basic volume of the various objects.





Here, I've begun to add a second layer atop the underlayer, just to clean up the colors and shapes a bit. Here also is a picture of the one to one setup of the still life and the painting.




Here I'm continuing to add details and clean up edges. I've added a few details on the paint tube.




Here's more details on the paint tube, and also paint smudges on the brush.
This is the final painting. I've cleaned up the photo seascape and edges, as well as details all around.